The 2021 Hyundai Elantra in Clearwater FL

Drivers Will Find Even More to Love in the 2021 Hyundai Elantra in Clearwater, FL
Over the years, our Hyundai dealership has sold many compact sedans to car shoppers around St. Petersburg. It's hard to beat the value that new compact sedans provide, especially when you opt for a model as value-packed as the new Hyundai Elantra. Well, the 2021 Hyundai Elantra offers Tampa drivers even more great features and value, and it has a sporty new design with a comfortable interior. If you're interested in the new Hyundai Elantra, read on for more details about this Hyundai compact car!
Major Changes to the 2021 Hyundai Elantra
There are quite a few changes to the 2021 Hyundai Elantra as the engineers rebuilt it from the ground up. It adds innovative features, like a wireless connection to Apple CarPlay and Android Auto and the Hyundai Digital Key, and it has a stunning new exterior style. There's a new body design that makes the Hyundai Elantra a more comfortable ride and quieter. Plus, there are Hyundai Elantra N Line and Hyundai Elantra Hybrid offers near Largo, FL that provide more power and efficiency, respectively.
Design
The design of the 2021 Hyundai Elantra follows a theme that Hyundai calls Parametric Dynamics. This style shows from first glance as the new Hyundai Elantra has a longer wheelbase, lower roofline, and wider stance. Inside, there are items, like the high center console, that highlight the driver-focused design of this new Hyundai car, and there's also more rear legroom and shoulder room, not to mention 14.2 cubic feet of trunk space. You'll get to enjoy many cabin styles to choose from, and there is also a 64-color ambient lighting system so that you can change the mood in your new Hyundai Elantra from trip to trip!

Features & Safety
The all-new 2021 Hyundai Elantra brings many smart features to our Hyundai dealer in Clearwater, and those features are sure to make your life easier in a variety of ways. You can now wirelessly connect your smartphone to the touchscreen display of the infotainment system, and there is Dynamic Voice Recognition to help you more easily give commands. You can outfit this compact car with a head-up display, and items like the sunroof and multi-zone climate control are sure to get a lot of use around the area.
What's more, the 2021 Hyundai Elantra provides drivers help through its many safety technologies. The new frame design does even more to protect the cabin if an accident occurs, but the Hyundai Elantra offers features that may help you avoid crashes. Those features include:
Forward Collision-Avoidance Assist
Highway Driving Assist
Lane Following Assist
Lane Keeping Assist
Driver Attention Warning
High Beam Assist
Smart Cruise Control
Blind-Spot Collision Avoidance Assist
Safe Exit Warning
Reverse Parking Collision Avoidance Assist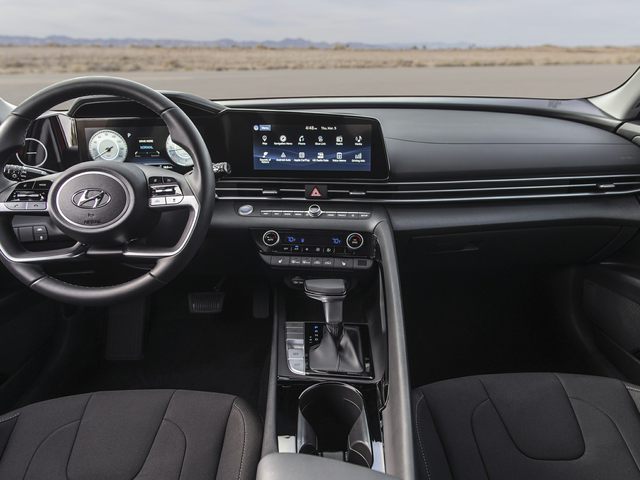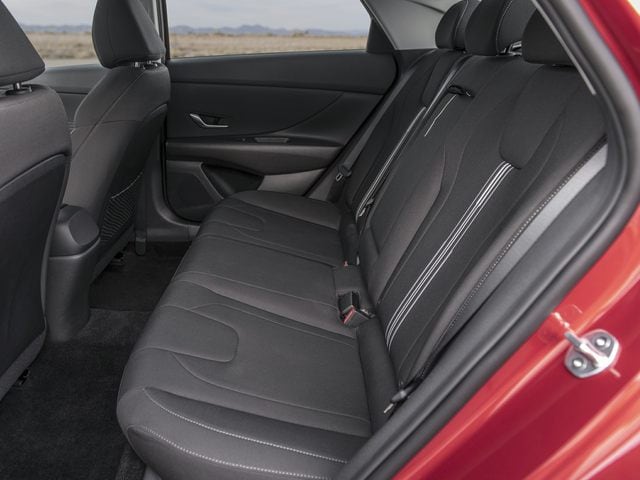 Engineering
An all-new build makes every 2021 Hyundai Elantra for sale near New Port Richey a more enjoyable ride. Handling is better thanks to the wider stance, and the longer wheelbase makes bumps less noticeable for all passengers. There is a 147-horsepower engine standard, but the Hyundai Elantra N Line has a 201-horsepower engine if you want more power. We're also expecting a new Hyundai Elantra hybrid for sale soon at our dealership, which makes this compact car even more efficient. No matter whether you want a compact car for commutes or one that lets you cut loose, the 2021 Hyundai Elantra has the versatility to impress.
Test Drive the 2021 Hyundai Elantra at Fitzgerald's Countryside in Clearwater
So, the 2021 Hyundai Elantra provides a compact sedan that excites in many ways. We hope that some of the info above got you excited about this value vehicle, and we hope that you'll reach out to our dealership for more 2021 Hyundai Elantra details!